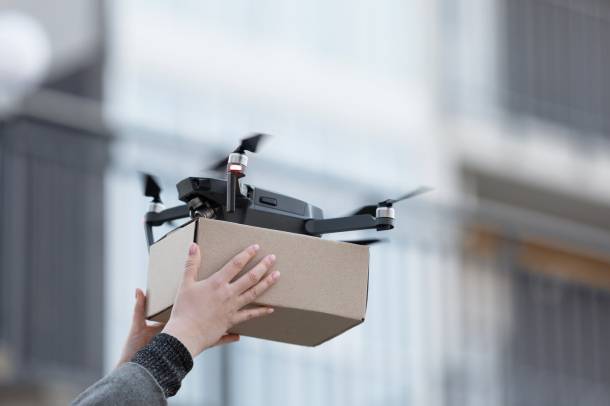 Welcome to the future, courtesy of an expansion of Kroger delivery options that will soon include packages dropped off via drone.
Kroger has announced that this spring, it will pilot a drone delivery program that calls for using drones to ferry products from a test store in Centerville, Ohio, to customer residences, with the products including items such as over-the-counter medicines, baby supplies, and assorted other sundries that weight up to roughly five pounds. There's already a website for this Kroger Drone Delivery service, and it informs visitors that: "Kroger Drone Delivery is an innovative pilot service that will deliver groceries to customers by drones flown by certified drone pilots under FAA approval." Kroger says it has partnered with Drone Express for this pilot program, which will "initially launch this pilot from a store in its Cincinnati/Dayton Division in Spring of 2021."
Today's Top Deal
AirPods Pro are finally back in stock at Amazon... at the lowest price of 2021!
Price: $197.00You Save: $52.00 (21%)Buy Now
Continue reading...
Today's Top Deals
Viral TikTok reveals a $6 product that fixes all the holes in your walls in seconds Today's best deals: Massive Amazon device blowout, viral $6 'miracle' product from TikTok, air fryer cookbook, $99 robot vacuum, more Amazon's biggest device sale of 2021 has begun – here are the 10 best deals 5 air fryer cookbooks that Amazon shoppers are going crazy over
Trending Right Now:
Beware: One woman already lost $2,000 to this new Amazon scam A fourth stimulus check is coming soon, but there's a very big catch Facebook threatens to start charging for apps if people block iPhone tracking
This big grocery chain is about to start delivering some orders with drones originally appeared on BGR.com on Mon, 3 May 2021 at 22:10:09 EDT.